UVI Falcon效果器 – Channel Robot Ambicon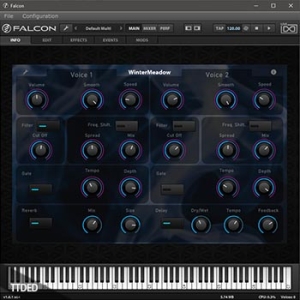 欢迎来到Ambicon,为UVI Falcon提供一组环境/大气预设,旨在提供不断变化和变化的音色,产生电影般的,催眠的气氛,广阔的音景,不断变化的无人机,黑暗的氛围,自然风光和脉动。
专为电影,电视/电影作品,下划线,各种环境和实验作品而设计。
Ambicon广泛使用IRCAM颗粒和多颗粒引擎,并包括专为颗粒引擎设计的手工制作的源材料。
Ambicon包括:
50个双重语音预设,每个预设都有两个颗粒状语音,并带有自己的独立滤波器,移频器和ance门。
12个预设还包括第三种弹奏声音,用于逼真的器乐演奏声。
粒度引擎超过170MB的独特wave文件数据。
在线延迟和混响效果
10个Falcon Multis可提供更多的周围大气纹理。
Welcome to Ambicon a set of Ambient/Atmospheric presets for UVI Falcon, built to offer ever shifting and changing timbres producing cinematic, hypnotic atmospheres, expansive soundscapes, shifting drones, dark ambiences, padscapes, and pulses.
Designed for cinematic, TV/Film work, underscores, ambient and experimental compositions of all kinds.
Ambicon make extensive use of the IRCAM granular and multi-granular engines, and includes hand-built source material designed for use in granular engines.
Ambicon includes:
50 dual voice presets each featuring two granular voices with their own independent filter, frequency shifter and trance gate.
12 presets also include a third pluck voice for realistic instrumental attack sounds.
Over 170MB of unique wave file data for the granular engines.
In-line Delay and Reverb effects
10 Falcon Multis for even more ambient atmospheric textures.
下载地址:
https://pan.baidu.com/share/init?surl=eJfdAmWLW9tXAodcy9Af3Q
提取码:3m2k