延迟效果器 – Intertia Sound Systems Hinder v1.0.0 WIN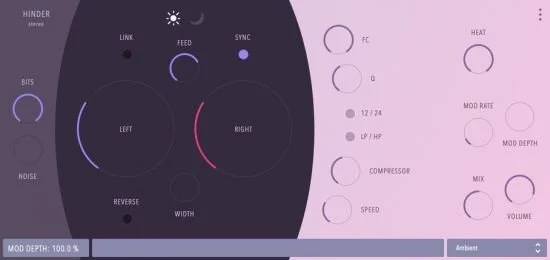 Team NeBULA | 18 September 2022 | 8MB
你错过的老式低保真延迟。
Hinder 为您的语气带来独特性和个性。你不会错的。
新的并不总是更好。这就是为什么我们研究了一些被证明和真实的东西。 Bucket Brigade Delay 经受住了时间的考验,但由于我们不受其时代的限制,我们将其提升了一个档次。
它的核心是根据 BBD 原则准确建模的。但它具有许多有用和创造性的功能,适用于声音设计和多功能性。当需要复古延迟音​​时,它的目标是成为一把瑞士军刀。
特征
精确的 BBD 建模,声音调整自由
整体音色更亮或更暗
左右声道的单独或链接延迟时间
集中或更宽的延迟效果控制
反馈 LP/HP 模拟建模滤波器
带有数量和速度控制的反馈压缩模块
通过适用于重采样和反馈滤波器的 HEAT 参数进行过载
合唱和镶边效果的延迟线调制
位深度和量化伪影混合控制
同步到主机或自由运行
便携且直观的预设系统
鼠标悬停在参数上时的说明性屏幕工具提示
最小,干净的用户界面
这个版本有什么新东西
官方网站不提供有关此版本更改的任何信息。
系统要求
Windows 10 x64:VST / VST3
That vintage lo-fi delay you've been missing.
Hinder brings uniqueness and character to your tone. You can't go wrong with it.
New is not always better. That's why we looked into something that was proven and true. Bucket Brigade Delay has stood the test of time, but since we were not limited to the confinements of its era, we kicked it up a notch.
Its core has been accurately modeled after BBD principles. But it comes with many useful and creative features, towards sound design and versatility. It aims to be a swiss army knife when a vintage delay tone is needed.
Features
Accurate BBD modeling with sound tweaking freedom
Overall tone for brighter or darker sound
Separate or Linked Delay Time for Left and Right Channel
Focused or wider delay effect control
Feedback LP / HP analog modeled filters
Feedback Compression module with amount and speed controls
Overdrive via the HEAT parameter that applies to the resampling and feedback filters
Delay line modulation for Chorus and Flanger effects
Bit Depth and Quantisation artifact mix control
Synced to host or free running
A portable and intuitive preset system
Explanatory on-screen tooltips on mouse hover over the parameters
Minimal, clean UI
Whats new in this version
Official site does not provide any info about changes in this version.
System Requirements
Windows 10 x64: VST / VST3