混合失真 – Minimal Audio Rift v2.0.2 WIN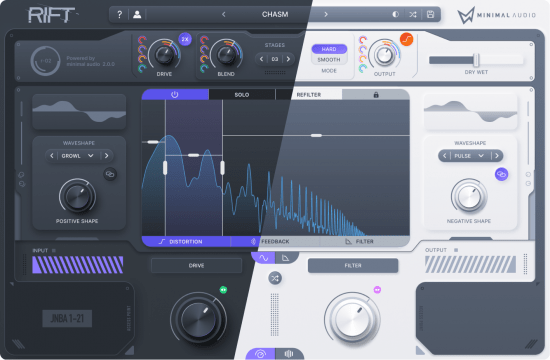 Team NeBULA | 13 September 2022 | 67 MB
具有广泛调制和全方位音乐思维的尖端混合失真。
Rift 是一个独特的失真插件,具有 30 种自定义算法,涵盖经典和前所未见的处理器。这些效果混合在波形引擎中,让您可以精确控制两种算法的组合方式,以及结果的清晰视觉反馈。
分别对波形的正负部分进行失真,驱动失真进行更极端的处理,并改变级数以创造超丰富的谐波。使用灵活的反馈处理器、自定义变形滤波器和强大的调制,进一步扩展您的声音。 Rift 附带经过完美调整并分类为主题包的预设,以及带有宏的专用 PLAY VIEW,可快速轻松地创建令人兴奋的声音。或者,更深入地探索 Rift 高级视图中的可能性世界。
功能概述
多极失真
从 30 种高质量失真类型中进行选择,并通过我们独特的多极处理引擎以新的方式将它们融合在一起。
旋律反馈
将 Rift 的反馈调整到您喜欢的任何音符,并与您的曲目建立关键的音乐序列。
扭曲的延误
创建通过多极失真反馈的分裂空间和过载回声。
变形过滤器
从 24 种自定义过滤器类型中进行选择,包括变形、移相器、元音等。
多频段效果
通过多频段分频器发送效果链的任意组合。
选择你的样子
在设计精美的深色和浅色 UI 模式之间切换。
直观的调制
将 Rift 的曲线音序器、宏、变形 LFO 和包络跟随器拖放到任何参数上,以快速使您的音轨栩栩如生。
两个强大的视图
使用播放视图轻松拨入预设或在高级视图中完全控制。
灵活的预设库
使用我们的程式化包找到完美的预设,使用标签进行排序,并保存您的收藏夹。
智能随机化
通过精心调整的智能随机化生成任何预设的音乐变化。
应用内工具提示
使用内置工具提示成为专家,让学习 Rift 变得轻而易举。
Cutting-edge hybrid distortion with extensive modulation and an all-around musical mindset.
Rift is a unique distortion plugin with 30 custom algorithms spanning both classic and never-before-heard processors. These effects are blended in the waveform engine, giving you precise control over how the two algorithms are combined, plus clear visual feedback of the results.
Separately distort the positive and negative parts of the waveform, drive the distortion for more extreme processing, and change the number of stages to create super-rich harmonics. Expand your sounds even further with a flexible feedback processor, custom morphing filters, and powerful modulation. Rift ships with presets perfectly tuned and categorized into themed packs, and a dedicated PLAY VIEW with macros to create exciting sounds quickly and easily. Or, go deeper and explore the world of possibilities within Rift's ADVANCED VIEW.
Feature Overview
Multi-Polar Distortion
Choose from 30 high-quality distortion types and fuse them in new ways with our unique multi-polar processing engine.
Melodic Feedback
Tune Rift's feedback to whatever notes you like and build musical sequences in key with your track.
Twisted Delays
Create disintegrating spaces and overdriven echos that feedback through the multi-polar distortion.
Morphing Filters
Choose from 24 custom filter types covering morphing, phaser, vowel, and beyond.
Multi-Band Effects
Send any combination of the effects chain through the multi-band crossover.
Choose Your Look
Switch between beautifully designed dark and light UI modes.
Intuitive Modulation
Drag and drop Rift's curve sequencers, macros, morphing LFO, and envelope follower onto any parameter to quickly bring your tracks to life.
Two Powerful Views
Easily dial in presets with the Play View or take complete control in the Advanced View.
Flexible Preset Library
Find the perfect preset with our stylized packs, sort using tags, and save your favorites.
Smart Randomization
Generate musical variations of any preset with carefully tuned intelligent randomization.
In-App Tooltips
Become an expert with built-in tooltips that make learning Rift a breeze.
Whats new in this version
Official site does not provide any info about changes in this version.
System Requirements
Windows 10 or higher