卡带播放器的模拟器 – Thenatan Tape v1.0.0 WIN macOS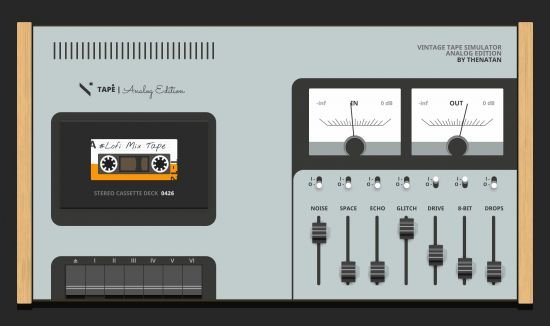 Team FLARE | 19 August 2022 | macOS: 110 MB | WIN | 113 MB
磁带 – 丢失的 LoFi 插件 ★
我们插件系列的最新成员就在这里,一个完美的精心模拟最著名的卡带和卡带播放器的模拟器。
向您介绍 TAPE,一款精心制作的复古、低保真多效果插件,具有引人注目的界面,您的 FX 武器库中缺少它。
TAPE 结合了 7 种不同的效果单元,包括
噪声:9Textures + HP/LP 控制。只需通过拖放即可导入您的纹理。
空间:算法晶莹剔透、郁郁葱葱、明亮的混响 + HP/LP 控制。
Echo:速度同步延迟 + HP/LP 控制。
Glitch:The TAPE 中最具创意的部分,Glitch 可让您进行机器人时间拉伸和重复音频信号。没有任何语言可以解释它有多酷。
驱动:为您的混音添加温暖,甚至是全面的失真。
8 位:从 1 个单个位到每个样本 64 位,使用 8 位进行数字化。
Drops:模拟虚拟磁带随机卡住并再次赶上。
结合这些选项,您可以重新创建您能想到的任何 Lofi 特征。
I = 温暖、自然、嘈杂
II = 温暖,更低端,有点暗。
III = 温暖、强劲的低端。
IV = 电话盒式录音机。
V = 随身听播放器,低点有一点提升。
VI = 通过 Walkman 录制的无线电。
非常感谢 R2R 团队的帮助!
这个版本有什么新东西
官方网站不提供有关此版本更改的任何信息。
系统要求
Windows" 7、8、10 或以上
系统驱动器上有 4 Gb 内存 / 2 GB 可用空间
"Mac" OS X 10.9.5 Mavericks 或更高版本
系统驱动器上有 4 Gb 内存 / 2 GB 可用空间
macOS Catalina / Bigsur Ready(兼容 Rosetta 2 下的 M1 Silicon Computers)
Tape – That Missing LoFi Plugin ★
The newest member of our Plugins line Is here, A perfect meticulously simulator of the most famous Cassettes and Cassette Players of All Time.
Introducing to you The TAPE, a Carefully crafted vintage, lo-fi Multi-fx Plugin With an Eye-Catchy interface, That is Missing in your FX Arsenal.
TAPE combines 7 different effect units, including
Noise: 9Textures + HP/LP Controls. Import your Textures, simply via drag-n-drop.
Space: an Algorithmic Crystal clear, Lush, and Bright Reverb + HP/LP Controls.
Echo: a Tempo Synced Delay + HP/LP Controls.
Glitch: The most Creative Part of The TAPE, Glitch Lets you do Robotic Time stretching, and Repeating The Audio Signals. No word can explain How Cool It is.
Drive: Add warmth to your mixes, or even full-blown distortion.
8-Bit: From 1 single bit up to 64 bits per sample, Go Digitalized With 8-Bit.
Drops: Emulate a virtual tape getting stuck randomly and catching up again.
Combining these options allows you to recreate any Lofi characteristic you could think of.
I = Warm, Natural, and Noisy
II = Warm, More low end, a Little Dark.
III = Warm, Boomy Low end.
IV = Telephone Cassette Recorder.
V = Walkman Player, With A Little Boost on Lows.
VI = Radio Recorded Through Walkman.
Big Thanks to Team R2R for their help!
Whats new in this version
Official site does not provide any info about changes in this version.
System Requirements
Windows" 7, 8, 10 or above
4 Gb ram / 2 GB free space on the system drive
"Mac" OS X 10.9.5 Mavericks or above
4 Gb ram / 2 GB free space on the system drive
macOS Catalina / Bigsur Ready ( Compatible With M1 Silicon Computers Under Rosetta 2)